Captains,
During the evening last night, we finally kicked off the PMDG 737 for MSFS video series on our official youtube channel. The first three videos of the series are all now visible and lay the foundation for beginning the process of getting deeper into the hows-and-whats of the PMDG 737. We anticipate releasing new content every couple of days, focusing with increasing levels of specificity on the airplane, it's features, functions and options, as well as the actual systems of the airplane and their various quirks and behaviors.
If you are a long-time PMDG product user, you may find the first few videos to be only mildly informative, but we think that beginning with the next couple videos in the series you will likely learn some things about the PMDG 737 that you didn't know, even with all of your years of experience. The video series is being developed to serve multiple purposes, including some preview work, general familiarization with a PMDG product as a whole, and of course detail instructions and information so that you can use the video series as a handy reference for tasks that you might have forgotten or need a refresher on later in the summer.
I anticipate we will be releasing one new video approximately every other day for the next couple of weeks as we work through the entire content plan. We hope you enjoy them!
Tonight I wanted to share with you two detail interior shots that came from Jason's photoshoot on Saturday. They show you opposite ends of the main panel, at different times of day, with plenty of detail in close to the panel in both day and night lighting. In this first image, you can see the ever-pervasive dust that is attracted to the screen surfaces in every modern cockpit. While flying in the real world, many of us carry micro-fiber and other devices to rid the airplane of this type of stuff, but it seems no matter how hard you try, there is always more by the time you land.
Vin did a great job of capturing it here
PMDG_MSFS737_panel1.jpg
An area where MSFS really shines (pun intended!) is the night lighting. We have been able to really accurately replicate the various types and styles of lighting in the 737 cockpit, giving the flight deck a really nice ambiance glow that is very convincing to the eye. One of my favorite things about the lighting engine in MSFS is the ability to set the panel flood lighting to very very dim levels, which is what I do when flying at night for real. I find that having only the panel backlighting active makes it a bit hard to see some switches and knobs, but having just a slight level of light washing over the panels makes the details stand out far more clearly- and this effect is well modeled in MSFS.
PMDG_MSFS737_panel4_depth.jpg
In this image, Jason has the lights turned up quite a bit, but you can see how the lighting model allows us to create an environment in which the lighting plays off of surfaces and mixes with the lighting created by other sources, giving an overall incredibly realistic feel to the cockpit.
If you like these images, you are about to begin seeing quite a bit more, I suspect, as we are releasing our beta team from their embargo effective at 1500Z today. We have put a few limitations on them when presenting video as we know of certain areas in our sound implementation that aren't finished yet so we don't want them showing you those sections until they "sound right." That may just be a matter of a few more days.
We are in the process of looping in a few content creators that we think are positive role models in the community so you will soon begin to see content created by those folks in the coming days as well.
As of this moment, we are still quite happy with the pace of progress as we move the PMDG 737 for MSFS closer to release. We have an exceptionally busy agenda this week, but I remain convinced that we are close to setting a date-certain for release. Once we have that date set, we will communicate that information to you here.
On the topic of releases: There has been some drama from some corners regarding our release timeline. It is safe to ignore said drama, as most of it is purely synthetic. The product continues to move forward toward release and we continue to evaluate all aspects of the product to determine it's suitability for your use. Our over-arching goal is to ensure that you have a smooth entry into 737 flying within MSFS and nothing else except this goal figures into the evaluation and determination of release readiness for the product.
We wish you all a smooth start to the new week!
LATE EDIT:
I almost forgot to let you know that we dropped a fourth video for the evening a few moments ago. This video was something I threw together a bit whimsically. I had a video created that simply wasn't coming together the way we wanted visually, so I thought it would be interesting to repurpose it for an information session and answering some user questions that we see frequently. (I am often asked "why don't you fly drones?" Well... when you watch this video, you'll agree I should stick to airplanes.
)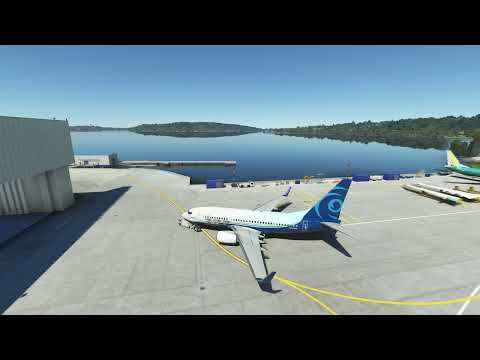 Next video up will be a full powerup of the airplane. Things are beginning to get exciting!